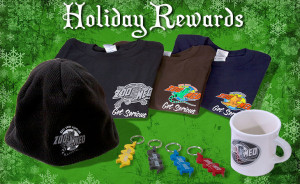 The Holiday Season is upon us and Zoo Med would like to give you, our valued customers, some gifts just for purchasing our products. Listed below are the rewards you will qualify for each level of purchase, while supplies last. The rewards are not cumulative, so you will receive the highest valued reward that your receipt qualifies you for.
Spend $50 and you will receive: One Zoo Med Snake Bottle Opener Keychain, assorted colors limited to stock on hand.
Spend $100 and you will receive: One Coffee Mug with Zoo Med Logo (Logo Design and mug may vary from one pictured above).
Spend $150 and you will receive: One Beanie Style Hat embroidered with the Zoo Med Logo (Beanie style may vary from one pictured above).
Spend $250 and you will recieve: One Zoo Med Screened T-Shirt (Color and Style may vary depending on stock).
To receive your rewards, receipts must be dated between 12/1/2013 to 12/31/2013. Please upload a Photo (.jpg, .png, or .gif) or PDF copy of your receipt. All fields must be completed, and all entries must be received by 1/31/2014 to qualify.
Only one entry per household is allowed.
We wish you a very Happy Holidays here at Zoo Med and at Animal Ark.