With these spiffy new hutches, your pet rabbit, guinea pig or other grass eaters can free graze without the risk of running away or becoming prey for local predators.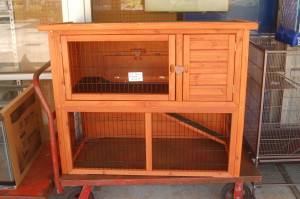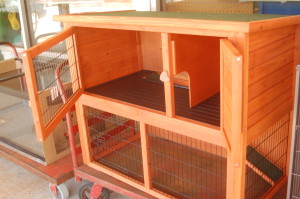 Top: This has an open bottom for grass grazing and a closed top for security and resting. Both doors latch with a cute little rotating heart latch. 46 x 25 x 36.5. Fir Wood. Asphalt Roof. Powder Coated Wire.
  This enclosure is plain and simple. There is no roof to protect your pet from the scorching sun, so this needs to be placed in a shaded area when being used outside. 33″ W x 40″ D x 32.5″ H This one is made to accompany a similar hutch as the top hutch for a more open grazing area.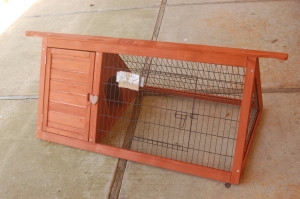 This one is cute, small, easy for the kids to place with the handles across the top of the enclosure. The door latches with the same cute heart latch. It also has an open bottom for free grazing, 53.5″;W x 24 1/2″;D x 21″ H   All of these are fantastic for small animals like chickens too!